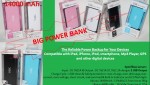 HP tiba-mati dan jauh dari Listrik? Atau Lupa bawa Charge HP. Bisa jadi itu masalah bagi kamu. Power Bank 14000 mAh dan 8400 mAh merupakan The Reliable Power Backup untuk Devices Kamu. Power bank ini kompatibel dengan iPad, iPhone, iPod, smartphone, Mp3 Player, GPS dan digital devices yang lain.
Power Bank Murah WKK ini memiliki Spesification secara umum :
kapasitas Battery :14000 mAh atau 8400 mAh
Input : DC 5V/1A
Output : DC 5V/1A DC 5V/2.1A
dilengkapi dengan 2 buah USB Output
Charge Cycle : >500 times
Safety protection : over-charge, over-dishcarge,over-current, over-voltage, short-circuit, and over load
Built in Indicator and LED flash light.
Ukuran Fisik : 139x60x22.5 mm ( 14000mAh) atau 102x59x22 mm (8400 mAh)
Berat Sekitar : 285g
Isi dari Produk ini :
USB to Micro USB, Mini USB, and 30 Pin Charge Cable
User Manual
Travel Pouch
Produk Jual BIG Power Bank ISTIMEWA Bisa pilih 14000 mAh & 8400 mAh, Merk WKK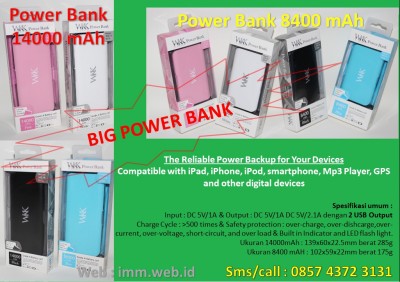 Jual Big Power Bank Murah, Harga MURAH 14000mAH : @Rp 435rb & 8400mAh @Rp325rb (Grosir minimal 3 Pcs dapat Discount). Minat bisa Call/SMS : 085743723131 (Jogja) Pin BB (by Request). STOK masih Banyak.
Produsen : wkkindonesia.com