Webometrics kembali melakukan revisi dalam hal metodologi pemeringkatan perguruan tinggi, utamanya masih menggunakan 3 indikator utama : visibility, transparansi dan excellence. Sebelumnya mulai tahun 2022 Indikator PRESENCE sudah tidak digunakan kembali, indikator ini dulu "sering dimanipulasi" dengan mengakali memperbanyak file di domain edukasi. Namun saat ini PRESENCE ini tidak mempengaruhi hasil penilaiaan. Diawal tahun 2023 kali ini ada lagi yang berubah, apa itu?
Indikator Webometrics
Bobot masing-masing indikator masih sama visibility (50%), transparansi (10%) dan excellence (40%).
INDICATORS
MEANING
METHODOLOGY
SOURCE
WEIGHT
PRESENCE
Public knowledge shared
DISCONTINUED
VISIBILITY
Web contents Impact
Number of external networks (subnets) linking to the institution's webpages (normalized and then the maximum value is chosen)
Ahrefs
Majestic
50%
TRANSPARENCY
(or OPENNESS)
Top cited researchers
Number of citations from Top 310 authors (excluding the top 30 outliers)
See Transparent Ranking for additional info
Google Scholar
Profiles
10%
EXCELLENCE
(or SCHOLAR)
Top cited
papers
Number of papers amongst the top 10% most cited in each one of the all 27 disciplines of the full database
Data for the five year period: 2017-2021
Scimago
40%
Bagaimana Indikator Webometrics di domain ac.id?
Berikut data pemeringkatan Universitas di Indonesia pada Januari 2023 versi Webometrics yang sudah disalin di Excel. Terlhat bahwa UI, UGM dan UB berada pada peringkat 1,2 dan 3. Data kolom paling kanana adalah jumlah subent IP yang terlihat pada pertengahan Januari 2023 di tool Ahrefs. Seperti terlihat sekitar awal Januari 2023 Jumlah Subnet IP ui.ac.id ada sekitar 3.473 di ahrefs, namun data IP ini bisa berubah setiap saat.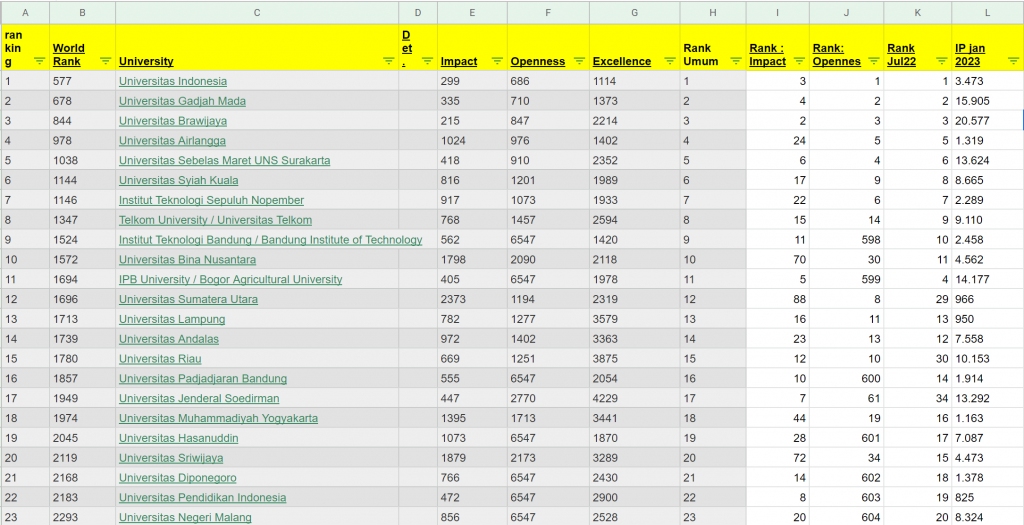 Openness rank 6547, kenapa?
Ada banyak web mendapatkan Skor Openness rank 6547, ini termasuk universitas Negeri dan Swasta ada lebih dari 2000 (2784 web kampus) mendapatkan skor 6547 pada Indikator Openness rank ini. Openness rank didapatkan dari Jumlah sitasi (dengan ketentuan) dilihat dari data Google Scholar Profiles pada profile Google Scholar Profiles Universitas. Dari sampling data yang ada skor ini diberikan karena ada profile non personal (buka profile orang) yang nonggol di Google Scholar Profiles, misal ada profile Jurnal disana.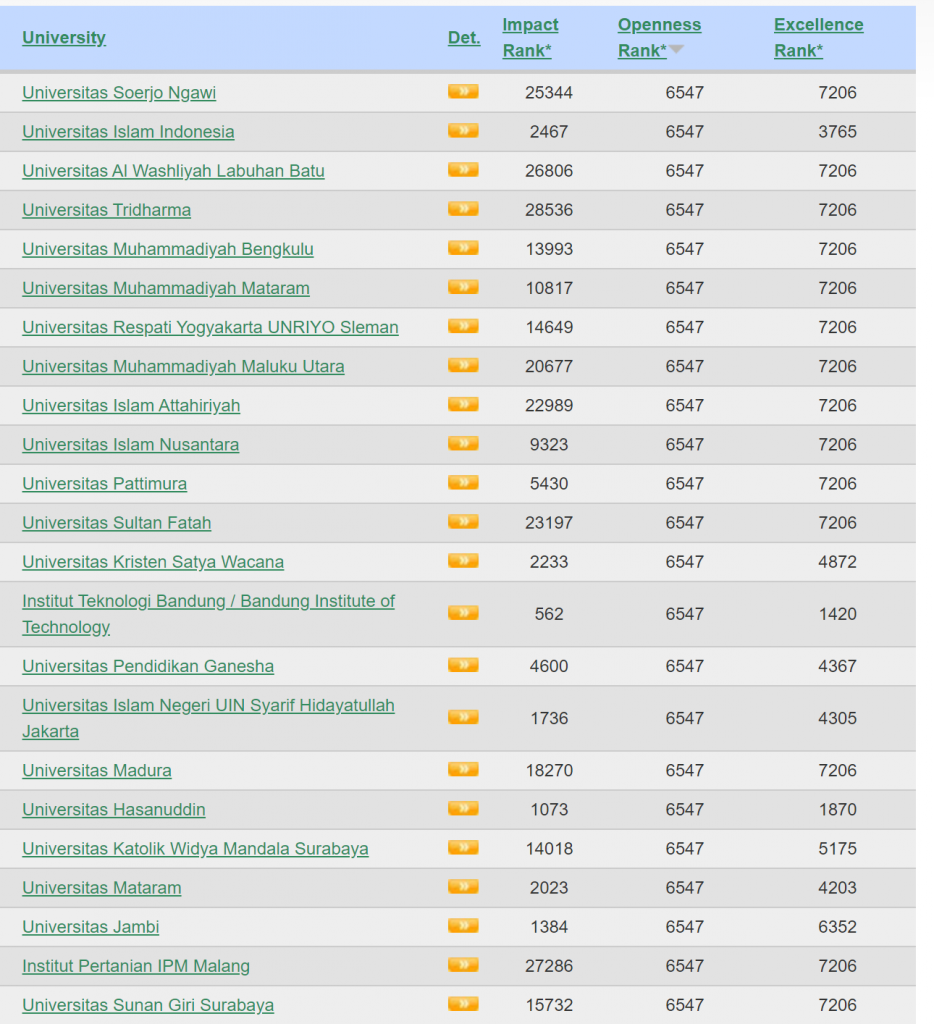 Indikator EXCELLENCE (or SCHOLAR) paling susah
Dari ribuan data web universitas hanya ada 72 kampus di Indonesia yang dapat skor dari kriteria ini. Data ini diperoleh dari Scimago. Pada Kritera ini sebagai besar kampus miliki nilai yang sama 7206