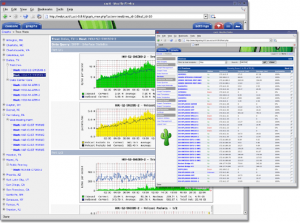 Cacti is a complete network graphing solution designed to harness the power of RRDTool's data storage and graphing functionality. Cacti provides a fast poller, advanced graph templating, multiple data acquisition methods, and user management features out of the box. All of this is wrapped in an intuitive, easy to use interface that makes sense for LAN-sized installations up to complex networks with hundreds of devices.
Info Cacti  : http://www.cacti.net/what_is_cacti.php
[ad#pendek]
Catcti menurut Winawang, CACTI adalah sebuah tool grafik untuk memonitor trafik jaringan, input / output, penggunakan CPU dan semua perlengkapan lengkap jaringan. Untuk melakukan monitoring trafik jaringan kita bisa menggunakan MRTG. Kita bisa membuka MRTG melalui browser.
Cacti menurut Endoet, Cacti adalah salah satu software open source (GNU General Public License) yang digunakan untuk memantau kinerja jaringan maupun komputer secara keseluruhan dan menampilkannya dalam bentuk images / grafik.