WordPress HTTP ERROR 500 habis pindah Hosting
Habis pindah hosting kesini dengan memindah semua konten awalnya normal. Namun saat nambah beberapa hal dan modifikasi tanpilan malah ada masalah di Link pada single post tidak mau tampil. Halaman depan (Home) paging dan Page masih tampil dengan baik. Ketika di buka halaman depan semua normal, gambar, tulisan dan widget tampil sesuai dengan tema.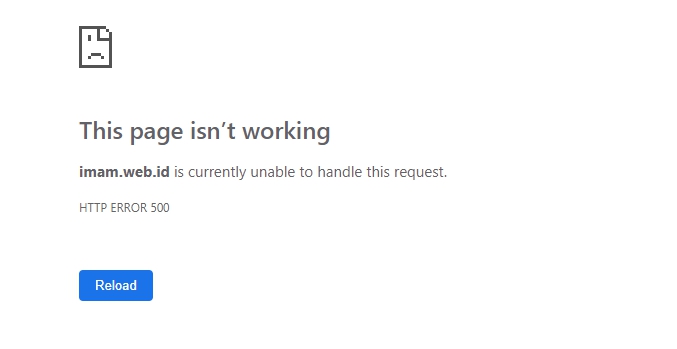 Muncul masalah jika kita klik Detail dari post (Single post). Jreng jreng muncul ini di Browser Chorme saya "This page isn't working imam.web.id is currently unable to handle this request. HTTP ERROR 500" Kasus apa lagi ini, mesti google dulu bisa temukan kasus ini.
Saya kira hanya bermasalah pada posting lama hasil migrasi, namun ternyata juga bermasalah juga pada posting baru. Sama tulisan baru tidak mau tanmpil pada single postnya. Saya sudah atur permalink dan simpan ulang, namun masalah belum bisa teratasi.
Usut punya usut ternyata da konflik diantara 2 buah pluin yang saya gunakan, saya disable salah satu pluin ini dan berhasil Posting tampil lagi dengan sempurna. Pada kasus ini ada 2 bauh Pluin yang konflih di web saya iatu antara :
WPeMatico Version 2.3.3 : Enables administrators to create posts automatically from RSS/Atom feeds with multiples filters. If you like it, please rate it 5 stars. | By etruel |
BackLinks_com Version 1.1.9 ( Deactivate) This plugin will add the BackLinks.com links code to your blog. To display the BackLinks.com links code, review the Installation Guide and place your BackLinks.com Key in the "BackLinks Configuration" section under plugins on the left menu.
Sementara Plugin WPeMatico Version 2.3.3 di noaktifkan dulu karena memang belum digunakan. Sementara ini masalah Error HTTP 500 sudah terselesaikan.